Life is full of paradoxes as roses are of thorns. — Fernando Pessoa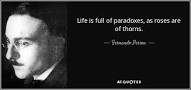 We discussed the other day how Jesus taught using Paradoxes. The Beatitudes being the best example.
I have learned over time that life itself is a paradox. To gain victory you must accept defeat; to regain pride you need humility, and in order to make amends to friends and family you must first make amends to yourself.
What do you think?
About the author