There's plenty of time to meditate, we just don't fully understand the practice, that's all. While sleeping we breathe, eating we breathe, don't we? Why don't we have time to meditate? Wherever we are we breathe. If we think like this then our life has as much value as our breath, wherever we are we have time. –– Ajahn Chah, Taste of Freedom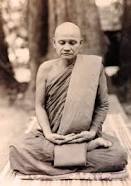 Ajahn Chah sounds like my Yoga Instructor. She will twist me into a pretzel and then remind me to, "Breathe."
She constantly reminds me that the simple act of breathing takes in the good and expels the bad.
If only life could be that simple, taking in only the good and throwing out the bad on a regular basis, but perhaps it is. On a regular basis we clean out our closets, and on occasion undergo a "Spring Cleaning" to eliminate the no longer needed things in our life. Perhaps what my yoga instructor and Ajahn Chah are trying to teach us is to concentrate on the present, the mere act of breathing in and out, and we will develop the habits necessary to take in the good, and expel the bad.
Take a few minutes this day to simply breathe, in and out, and to concentrate totally on the process. It might just be the beginning of a whole new way of life.
PS: Sorry I missed the last few days of the Pew traveling by train to DC and back for George to have his annual visit with the people at Georgetown Transplant Center. George must be happy with my Yoga exercises because once again a good report. If you want a clue as to what my Yoga workout really looks like check out below. Now imagine once in the Opus pose my teacher saying, "breathe."

About the author