When the song of the angels is stilled, …. Then the work of Christmas begins: To find the lost, To heal the broken, To feed the hungry, To release the prisoner, To rebuild the nations, To bring peace to others, An alas, to make music in the heart. — Howard Thurman.
Presiding Bishop Michael Curry included in his Christmas message the above Christmas Poem composed by Howard Thurman. Dr. Thurman's words and ministry are worth our study in the upcoming year. Bishop Curry concludes his message by saying that we should all "go out and make music in the heart of the world."
I thought it only fitting in this first day after Christmas and when many of us begin the process of developing resolutions and plans for 2018 that we take some time to read Dr. Thurman's poem and the Bishop's message.
If you are like me you are receiving all kinds of solicitations from charities suggesting it would be smart given the new tax laws to make my 2018 charitable contributions in the next five days. They may be right from a purely tax viewpoint. Dr. Thurman suggests a different criteria for one's post-Christmas plans — "to make music in the heart."
Each of us has a role in the work of Christmas that just ended, take a little time to ask yourself where your place might be in that work, and then as Goethe suggests, Whatever you can do or dream you can, begin it. Boldness has genius, power, and magic in it.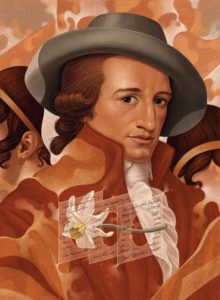 About the author