In Barbara Demick's book, Nothing to Envy, she describes how in much of North Korea there is no electricity. When darkness occurs there is no reading, watching TV, or nighttime activities we take for granted.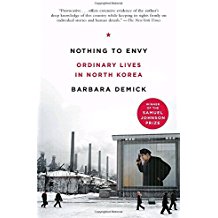 She tells the tale of a young girl and her boyfriend sneaking out every night under the protection of darkness to meet and talk. Yes, even in North Korea love exists in all forms. Love finds a way in the most dire of circumstances.
A friend recommended this book to me because I am fascinated how life might be in a world of darkness is like. Barbara Demick's description of this real life person who she meets later stuck with me. The young girl was only twelve when she began sneaking out, and before you go there, the girl said it was only after three year that the young couple held hands, and only after six that they ever kissed. Hanky Panky wasn't an issue.
What struck me though was how even in a totalitarian state where every aspect of one's life is controlled, people seek out happiness where they can find it, and yes in total darkness.
Once during my sabbatical I spent a few days in total darkness for twelve hours at a time. At first it was disturbing, but I adjusted. I too sought out love like the young girl in North Korea, and found it in God's presence and comfort. Maybe it is because of my experience that I relate so much to the young girl in North Korea.
From high school physics we learn that darkness is merely the absence of light, but all else remains the same. When we find ourself in a dark nights of our life remember that all else remains the same, especially love.
About the author