Are You Experienced? — Jimi Hendrix.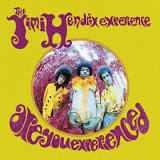 Jimi Hendrix's debut album is a classic. Click on the above link to learn a few things you may not know about the making of the album.
But no I'm not going  to talk about rock and roll today or any other day. Rock and roll is to be "experienced" not talked about.
Something else that must be experienced is our understanding of the great mystery of God. Daniel learned about God with lions at his throat. Saul/Paul learned about God when he was blinded in a desert. Job had to lose everything to begin to get a glimpse at God.
Yes, it is important to read the Bible and other writings about God. Yes, it is important to pray and serve God. Yes, a great sermon like many of Luis's will greatly enhance your understanding of God. But there is nothing like experiencing God as we go about our messy, confused, and struggling days. He is found in the smell of the honeysuckle when the doors of a church are locked, and no matter how many times I tell you this story you had to have been there in that moment to fully understand. You had to have been by your father's bed and seen the peace come on his face when he breathed his last. God is all around us if we only open our eyes and our hearts to his presence.
Are you experienced?
About the author