The future belongs to those who believe in the beauty of their dreams. — Eleanor Roosevelt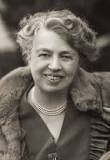 I think in over two thousand posts this may be the first time I've ever quoted Eleanor. Doesn't speak well of me, does it?
Oh well, I was drawn to this quote because I write and talk about dreams, goals, being the person God intended, but her words made me pause and ask, "Are my dreams beautiful?" Have you ever asked, "Are you dreams beautiful?"
So much is written about dreams, goals, and it seems most are focused on money, prestige, even at time great humanitarian goals, but not beauty. So, I began to concentrate this morning on my dreams and to ask are they beautiful. It can be a pretty good measure, for if my dream is to do someone harm, get revenge, show someone up, etc. that is not beautiful. Where if my dreams are to improve the planet, to serve a neighbor, or to extend a kindness all those pass the beautiful test.
Eleanor may be on to something. What do you think?
About the author