It is not death that a man should fear, but he should fear never beginning to live. Marcus Aurelius, Meditations.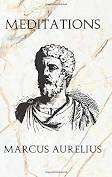 It is never too late to begin to live.
I learned this lesson many times over my life. My "life" was changed by circumstances, past deeds, and health, and I was time after time forced to begin a new life. Thank God, I have a companion who has stuck by me during all my life changes. I do think Aurelius has a point — it is not death we should fear, but not living. There are times we are all tempted to give up. To live out our life without living. I think you know what I mean.
Living is not easy. To truly live one must face the difficult and painful with the same energy and dedication as the pleasant for such is life, but the rewards are great. Consider during a meditation this week asking yourself what it will take to truly begin to live, then go out and do it.
Let me know what you what you did or discovered.
Editors Note: I apologize for the brief pause in meditations last week. Suzy and I traveled and I forgot to bring with me the password to the program where I post the Pew. Wouldn't it be nice if we had only one password. That last sentence sounds like a meditation I might write about one day soon.
About the author