In every real man a child is hidden that wants to play.  — Friedrick Nietzsche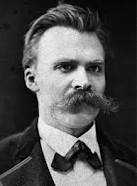 Nietzsche had one heck of a mustache. I wonder if it was part of his "child hidden that wants to play."
All of us, men and women, have a child inside, but do you consider yours a friend or an enemy or does it depend on the circumstances? Remember Paul telling the Corinthians that he put away childish things. How often have you heard that "It's time to grow up."
Yet Jesus told us that to enter heaven we must be as a child, and who doesn't marvel at the wonder and excitement found in a child's eyes.
One of the great things about becoming older is the child in us comes out of hiding. We once again see beauty in everything, and in a way age gives us permission to be young in outlook again.
This weekend take a minute to find that inner child and invite him/her to come out and play. It's time to find that child in each and every one of us.
About the author