The Confederacy of the Humbled… knowing beauty, influence, fame, and privilege to be borrowed rather than bestowed…. — A Gentleman in Moscow, Amor Towles.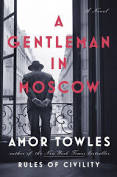 At the beach I am really enjoying this novel, and I found the reference to the Confederacy of the Humbled to be especially touching and profound. Maybe because I too belong to the Confederacy, and I'd bet a lot of my readers have been there at one point in their lives. I don't wish being humbled on anyone because it is painful, but it does cause one to look on life quite differently.
It can take many forms, a star athlete is benched, a young girl is not invited to the prom, and a politician loses an election.
It causes the humbled to look at life differently. As the character in the book notes, one is a little less quick to envy or take offense. "They greet adulation with caution, ambition with sympathy, and condescension with a smile."
I would add to the author's description the fact that the Confederacy seldom relish in the demise of another, even an opponent or enemy. One never joins the Confederacy voluntarily, but once initiated it is a club even Groucho Mark might wish to belong.
I don't want to belong to any club that will accept me as a member. — Groucho Marx
About the author