…we have evolved as a species to pay the utmost attention to that which is just beyond our reach. Amor Towles, A Gentleman in Moscow.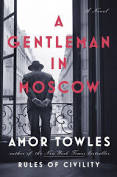 What happens when we stop reaching? My Yoga teacher tells me the moment we let go of the desire for the material and the worldly we gain tranquility. Greed is like a poison that once gone leaves one totally at peace.
I am often puzzled by the super wealthy and powerful who can't stop reaching for the next brass ring on the merry-go-round of worldly desire. If Towles is right it is due to evolution, but I wonder.
I still want that pickup truck one day, but I no longer "need" it. Maybe it is that thing that is just beyond my reach, but I will always forgo that truck for things that are always within my reach — love of family, friendships, and a walk with God in the garden. I no longer think about the pickup so much anymore.
Perhaps humans in this regard need some reverse evolution. Less attention to that which is beyond our reach, and more attention to what we already have.
Something to think about this weekend.
About the author