"A calm and modest life brings more happiness than the pursuit of success combined with constant restlessness." — Albert Einstein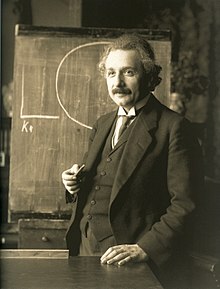 I came across an article yesterday about the auction of Einstein's handwritten note that recently sold for $1.56 Million. It seems that during Einstein's trip to Japan in 1922 to receive the Nobel Prize in physics, he wrote notes on how to live a fulfilling life while staying at the Imperial Hotel in Tokyo. When a messenger delivered something to his room, the German-born physicist gave him two of the autographed notes, because he didn't have a tip available. Einstein said the notes could be worth more than a tip one day. He was right.
Now I'm not sure the messenger thought so much about Einstein's tip, but apparently he kept it. He must have realized the note might indeed be worth something. It was thoughtful of Einstein don't you think? At least he didn't tell the messenger, "I'll catch you on the way back."
As to the message, I'm pretty sure that most people who live long enough realize the wisdom of Einstein's words. If there could be one message I could convey to my children and grandchildren it would be Einstein's key to happiness. Unfortunately, our 24 hour society pushes us all in the opposite direction. I'd hesitate to count the number of books and seminars there are on the pursuit of success, but I don't see many books out there suggesting that one lead "a calm and modest life."
A calm and modest life is not that easy. St. Augustine said, "Complete abstinence is easier than perfect moderation." I think that is the case even more so in today's times where a calm and modest life might be seen as failure. Do you think Einstein is saying not to seek success? He certainly would be considered successful, after all he was receiving the Nobel prize when he wrote this famous note. Maybe we should view his words as a lament.
Success is not always all it is caught up to be. Maybe I should spend at least as much time pursuing calm and modest, as much as I do success. There must be a balance out there. What do you think?
About the author