The story of Martha asking Jesus to scold her sister Mary for not helping during Christ's visit is one of the most familiar in the Bible.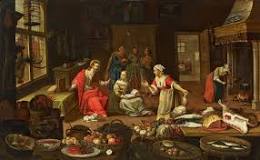 Many of us identify with Martha. If you have a houseguest, one makes sure the house is clean and everyone is served. In my EFM class we took a poll and about half identified with Martha and half with Mary. The story goes much deeper than a party.
A spiritual life includes both contemplation and action. I spend a lot of time writing about meditation and prayer, but know the real fruits of a spiritual life are out in the field serving my neighbors. Too much of either meditation or service causes us to lose our balance, and it is so easy to be caught up in these modern times with the day-to-day things that must be done.
Finding the balance is not easy, but as long as we remain centered on God, he will help us find the way and time for both.
About the author