I attended the funeral of an old and dear friend this weekend, Clyde "Smackover" Scott.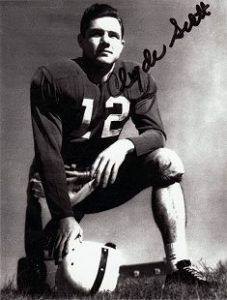 If you are sports enthusiast I suggest that you click on the link to learn more about "the greatest athlete the state of Arkansas ever produced." All-American, First Round draft choice, Olympic champion, World record holder, the list goes on for miles. I never had the opportunity to see him play or run track, and I always knew him as Mr. Scott, father of one of my dearest friends in the world, and one of the must humble men I ever encountered. I was not surprised when I learned that the legendary Doak Walker was asked about him he said, "Scottie was a great football player, but he was the greatest person I ever knew."
I suspect that last night when the Eagles won the Super Bowl, Scottie was the 12th man who had rejoined his old pro team for another championship victory.
I learned during the two day celebration of his life this weekend that the origin in English of the word "goodbye" is "God be with ye." The same meaning is contained in the French "adieu" and the Spanish "adios." When someone close to us dies we send them off in whatever service we have to be with God.
I hate to tell all my Patriot fans, but this year it appears God was an Eagles fan. Go with God, Mr. Scott.
About the author