Many a college coach or football player will tell you the fall season depends on spring practice. "Champions are made in the spring" adorns many a college football locker room right now.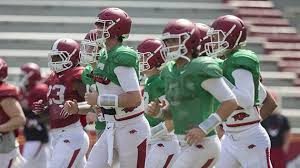 Our lenten discipline is much like spring ball where we practice two disciplines. We dive deeply into prayer, meditation, and reading scripture to improve our spiritual self. We serve our neighbor and fight injustice to improve our community. Neither discipline should be pursued to the exclusion of the other, much like a coach knows not to emphasize offense over defense, or vice versa, during spring practice. In fact, part of spring practice and lent is finding the right balance between the two. To emphasize one over the other establishes an imbalance that is hard to overcome.
The balance of both knowing God's word and plan, and putting them into action is what we seek during Lent. To bridge the gap so to speak. This balance is not easy to find, some days our internal examination dominates, and other days community service takes up all our time.
A few coaches, even in these days of specialization, have their ball players switch roles. A running back becomes a safety, a defensive lineman moves over to offense, a quarterback becomes a receiver just so every player knows the other roles on the field. We may be most comfortable in community service, so it is important during Lent to spend extra time in prayer and meditation. The opposite is true as well. It is important to leave one's meditation and get out into the field during the lenten season. In so doing we find that precious balance we all need.
Lent is our time to learn how to live in a right relationship with God, that requires balance and a complete self. Champions are made in the spring, both on the field and in life. Don't miss out on the opportunity.
About the author