This life He gave the shell, the daily struggles we know, sit quiet for a minute, dear, feel the wind, let light touch you. Live without thought of dying, for dying is not a truth. — St. Catherine of Sienna.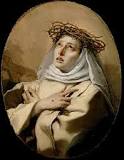 I knew very little of St. Catherine before I started reading her poetry. Take a minute to click on the link if you are like me. I can tell you her poetry is some of the finest.
In today's poem she hits home. My writing nook and chair where I sit in to read gets the morning sun, and when I crack the window on most days I feel at least a second story breeze. The sun and the hint of breeze can do wonders for the struggles of the day.
Her next words are much deeper, but give me equal pause for reflection. We try to accept the Christian belief that death is not the end, but a new beginning. St. Catherine in today's poem and and in many other writings talks of death as "fake news." For Catherine dying is just a movement to another stage of our life. Many eastern regions believe this as well.
Maybe death is is not the truth. It is as Catherine wrote in her poem "I won't take no for an answer." She said, God speaks to us at the moment we call death as his opening his arms and wanting us to dance.
Now God knows that I may be one of God's worst dancers, but I get the opening his arms part. That is my view of heaven. A big God hug.
Luis tells us to go with our belief as far as we can go, and that's sufficient for God. What do you believe. Can you go as far as Catherine of Sienna? Whether you can or not, her words "live without thought of dying," really rings true. Again what do you think this first day of the week?
About the author