Forgiveness is the foundation of God's being. — St. Catherine of Sienna.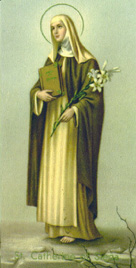 Over the years I've probably written more about forgiveness than just about anything. St. Catherine explains why. Forgiveness is at the foundation with our relationship with God. Whether our sins are small or large, numerous or one whopper God stands ready to forgive and help us forgive others and ourselves.
Knowledge of God's unconditional love for each and every one of us carries us through the most tumultuous times.
About the author