The weight of arrogance is such that no bird can fly carrying it. And the man who feels superior to others, that man cannot dance, — St. John of the Cross.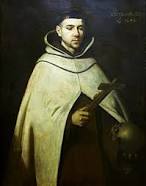 One of the biggest differences in sports I've noticed is that it seems like a lot more ball players play with an arrogance or an attitude. I am not a big fan of attitude, especially in athletes who are role models for our children, but I'm told I'm old-fashioned and "past my time." The latter being definitely true. (As an aside, I'm not that big of a fan of arrogance in our political leaders either. It seems inconsistent with the phrase "public servant.")
St. John had to deal with Kings, Queens, Popes and Bishops. An although arrogance may seem to come with the territory, I'm still not sure it is attractive or wears well.
Well enough of my personal preferences, St. John is spot on when he says that arrogance cannot soar into the air or dance. What a shame they miss out on real life.
About the author