"Men, at today's practice I want you to get bettah." — Coach Frank Broyles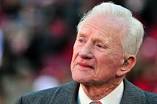 Coach Broyles never lost his Georgia accent. So when he would encourage our team to take every day, every game, and every practice as an opportunity to get "Bettah" one couldn't help but smile. I still do at the thought and still hear his voice in my subconscious ear. Fifty years later his words still ring true.
No, I am not starting to work out getting ready for two-a-days, and the reality that I am no longer to do some things physically that I could ten years ago has set in. But Broyles words weren't limited to physical skills. The human body, especially one that played football, does have its limits. Age mandates that we slow down, but one's mind can continue to get "bettah" every single day.
So can we get "bettah" in our compassion, our tolerance, our humility, and our willingness to forgive. Every now and then we all need to "button up our chinstraps" and get back in the game of life. Sitting on the bench only gives you blisters and splinters.
Editor's Note: Eight years ago I began writing meditations on an almost daily basis — most weeks five days a week. Lately, I have not been pleased with their quality and worry I am becoming repetitive. I have also started to examine my daily schedule. I need more time to read, meditate, pray, and get outside. So I have decided to do some tweaking with my schedule and some experimenting. I have always believed that to continue to improve one needs to change things up periodically.
So for the next two weeks the Hubbell Pew will be on a brief sabbatical. The time I normally spend writing the Pew will be spent reading some inspirational books that have been gathering dust on the bookshelf, walking in a nearby park, and taking notes. When I return we are going to experiment with posting a meditation on Monday, Wednesday, and Fridays. So after tomorrow's meditation look for the next meditation on June 25, 2018.
For those who are interested, I am also doing some tweaking and experimenting with the other parts of my daily schedule, as well. It is very easy to spend to much time in front of a computer screen, especially when one is writing books and meeting contractual obligations to market on social media. My two week sabbatical will extend to the rest of my day as well. 
I sincerely hope when the Pew returns in two weeks you will notice a difference and say, "Webb, you are getting bettah.  WH.
About the author