When they had brought their boats to shore, they left everything and followed him. — Luke 5:11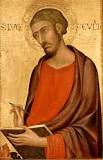 How many times have you read about Jesus calling Peter/Simon and James and John after they caught a whole bunch of fish. But if I noticed before I never focused on Peter asking Jesus to go away — Go away from me, Lord, for I am a sinful man. — Luke 5:8
The Bible is full of stories of God's call and reluctant followers. Consider Abraham, Moses, Noah, and Jonah. Peter disappoints Jesus time and time again, but Jesus never gives up on Peter, even after Peter denied he even knew Jesus. I don't think this is by accident or happenstance. God saw something in Peter that Peter couldn't see himself. Just like he sees something in each of us, we can't see or don't want to see.
Like Peter we see that we are full of sin and unworthy of our call. We say to God leave me alone, "for I am a sinful man" or woman. But no matter how many times we fail and give up on ourselves, God continues to say, "Do not be afraid. I have a job for you to do."
God is one persistent cuss, because he sees our potential and forgives our failings. Don't ever give up on yourself, God hasn't.
About the author