The battle for Indian children will be won in the classroom, not on the streets or on horses. The students of today are our warriors of tomorrow. — Wilma P. Mankiller.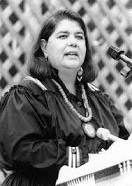 The great chief of the Cherokee Nation speaks not just to her people, but to the world at large, for we all have a heritage. Our heritage comes from our ancestors, the color of our skin, the part of the world where we were raised, our religion or choice of faith, our nation's past, etc. and with each generation that heritage evolves.
Each of us needs to live in both worlds like the Cherokee. We must emphasize education. For in an educated world we not only learn to survive and improve the quality of life for ourselves, but also for those around us.
But our education should not be limited to "reading, writing and rithmatic." We must teach the culture, the ceremony, and the tradition of our heritage much like the Cherokee. When I say our heritage I don't mean to sugarcoat history, but I think its important not judge the past based on today's standards. We need to teach about our heritage without any judgment and with understanding. But we must also not worship or turn a blind eye to our past either.
We must find the right balance between the present and our past — A place where they and we both live in harmony.
About the author