"An assurance of safety and a temper of peace, and, in relation to others, a preponderance of loving affections." — William James's The Varieties of Religious Experience, Lecture XX.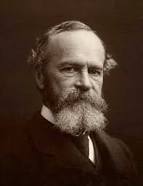 Followers of The Hubbell Pew know that I sometimes run across a phrase that I find fascinating and produces a flow of thought. Such was my feeling when I read William James "Summing up in the broadest possible way the characteristics of the religious life."
I haven't had the occasion to spend any time with noted spiritual leaders such as Mother Teresa, Pope Francis, or the Dalai Lama, but I have the impression from what I have read that those wh have have felt the three things James describes — safety, peace, and loving affections.
I have had the chance to meet several individuals who I would put in the same category, but out of risk of giving them the big head or putting in jeopardy their humility I will not name. But I would say that in their company I did and do experience a feeling of safety, a sense of peace that defies description, and their life is filled with "a preponderance of loving affections."
James words and my named friends lead me to believe that these three attributes are characteristics for which I should strive.
What do you think, and feel free to comment on perhaps your experience.
About the author