He lingered a bit longer before any face that was weeping, and before eyes that were laughing. And sometimes when we passed a soul in worship God too would kneel down. I have come to learn: God adores his creation. — St. Francis of Assisi.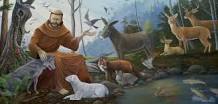 St. Francis describes a walk he took with God in the poem above. I wonder if you are like me — the image of a God that lingers before any face that is weeping and and any eyes that are laughing, and the image of a God kneels with us in prayer — is the image of the God I want to know, to talk and walk with, and to worship.
I know too many people who walk by a face filled with tears, mock those eyes that laugh, and wouldn't be caught dead with "certain people" in a church, synagogue, or mosque. I love the image of a God who is in love with his creation, every bit of it. I know too many people who only adore what they can get out of or take of God's creation.
Maybe we will never have the chance to walk with God like St. Francis, but we can walk in their footsteps — linger and comfort weeping eyes, laugh along with others, and kneel with our neighbor in prayer.
About the author