I have come into this world to see this: the sword drop from men's hands even at their arc of rage, because we have finally realized there is just one flesh we can wound. — Hafiz.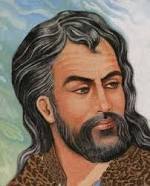 Hafiz is a 14th century Sufi poet who is considered to one of history's lyrical geniuses. Emerson once said of him that he was a poet for poets. Goethe wrote Hafiz has no peer. In his poem, I have come into the world to see this, he concludes his poem with the words above. In the beginning of his poem he concludes the verse by saying, there is just one flesh to wound — the Christ's, our beloved.
I'm not quite sure why he ends the poem differently than as he begins. Did he think he still meant the Christ's wound, or does he now say the only flesh to wound is the man holding the sword? What do you think?
We talk a lot about God's purpose for us on earth. We ask, "what is my call?" Hafiz turns around the question and ponders throughout his poem, what have I come "into this world to see?"
As you meditate this week ask yourself, "What have I come into this world to see?"
About the author