There are three classes of people: those who see, those who see when shown, and those that do not see. –– Leonardo Da Vinci.
I recently read Walter Isaacson's biography of Leonardo Da Vinci.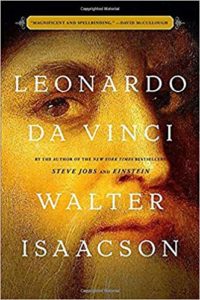 He was a genius in every sense of the word, but likely had problems with attention deficit and if a recent article is correct, had strabismus problems. While my book club studied Isaacson's tome, I wondered what can we learn from Da Vinci's genius:
DaVinci was a constant note taker. Over his lifetime Da Vinci created 13,000 pages of sketches and notes. 13,000 pages back when paper wasn't cheap. He wrote in mirror script, on individual sheets of a form of paper. People recommend we all keep a journal, but don't you think 13,000 pages is going a little far?
He spent a lot of time with his observations which generated lots of ideas and reflections. He asked lots of questions. Always observing and studying. Da Vinci was not a loner. He often reviewed his work with peers after he had finished developing an idea. Many of his early paintings were collaborations not individually painted works. Many of his ideas were rejected, but rejection didn't  faze him. He didn't lose his desire or his persistence. Persistence was his middle name.
His basis of study was uncanny observation and notes/questions on his observations. Things as minute as the construction of a woodpecker's tongue were observed and sketched. He withheld judgment once saying, "The greatest deception men suffer is from their own opinions"
We are not all geniuses. I am hardly in that category. I can't even draw a straight line with a ruler. But we can all learn to be more aware of our surroundings, to develop our curiosity, and to observe the minute, for it is in the tiniest of details we find God's greatest work.
About the author