The most beautiful people we have known are those who have known defeat, known suffering, known struggle, known loss and have found their way out of those depths. These persons have an appreciation, sensitivity and an understanding of life that fills them with compassion, gentleness, and a deep loving concern. Beautiful people do not just happen. – Elisabeth Kubler-Ross.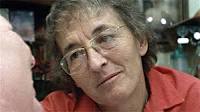 Every time I come across this quote I remember "one of the most beautiful people I ever met." No she will never make a movie or model for Vogue. She was an elderly black woman I met at the Metro station in the Anacostia section of Washington, DC. I was there because after my sabbatical in Cumberland, Md. I was now living at a halfway house called ironically "Hope Village." I was supposed to be learning at the halfway house how to reenter society. After a brief orientation, each of the "brothers" in this urban monastery was supposed to spend the day either searching for work or working at a minimal wage job. That morning I was fortunate. I had a job at a criminal justice think tank, NCIA, in Arlington, Va. I had taken a bus to the Metro, ridden the Metro to the National Airport, and then walked the rest of the way to work. Unfortunately for me, the weather changed and my trip home was in a cold rainy windstorm. I finally arrived back to the Anacostia station where hundreds of people were squeezed together under a canopy waiting on their respective buses and trying to stay dry.
This was my first day out and I was worried I was going to be late. The leaders of the monastery had made it clear if I wasn't back by 6:00 P.M. The doors would be locked and I would be considered AWOL. With the crowd, the rain, and the darkness I couldn't locate my bus or even where I was supposed to stand for the next bus going to Hope Village. I am sure my fear of being late, my dampness, and my size caused me to stand out. It is then that I met my angel. She said, "Young Man you must be lost, you don't belong here."
I said, "I'm living in Hope Village."
She looked me over and said, "Bless your heart! Come with me." She then took me to the right bus stop, and when the right bus arrived she got on the bus with me and we sat down. For the next twenty minutes she schooled me on which buses to take and certain protocols I should know about living in my new monastery. I was so grateful words can't express, but as the bus pulled up she didn't get off. She was headed back to the Metro station to catch a different bus home.
I looked for her every morning and evening to thank her properly but we never crossed paths again. I still see her face every time I read the words above about a person who is filled with compassion, gentleness, and deep loving concern. I pray that she is well for we all should have an example in our life of the most beautiful person in the world and we should learn from him or her how to be one ourselves.
About the author