Kindness is water, religion is tea. — Dalai Lama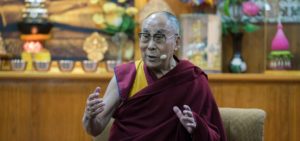 My Yoga instructor repeated the Dalai Lama's words today. To her, his words meant that we can't live without water, but every now and then a glass or cup of tea is nice.
I went home to check the quote, and I was amazed at what I found. There are books written about the phrase "kindness is water." Others talk about whether "spirituality is water, and kindness is tea." Then there is a whole flurry of articles about women being like tea bags. I then went back to the original quote to ask myself what did I think.
Did his holiness mean water is essential, where tea is a luxury? Did he mean that religions come in many flavors, but they all require water? One author said that water is free flowing where religion is like ice. Water is at its best when its wild and crazy, where religion is at best a frozen moment in time mistaken for eternity.
Who know such few words would bring on so much thought? I asked myself what did I think? As a southern boy nothing refreshed me more than drinking out of a garden hose on a hot summer day, but my grandmother's sweet iced tea was to die for.
What do you think?
About the author