How should we like it were stars to burn; With a passion for us we could not return? If equal affection cannot be, Let the more loving one be me. — W.H. Auden.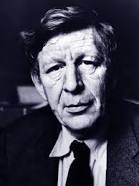 As Valentine's approaches I pull out a favorite of mine. One of the most difficult times as a parent is one of your children is going through a break up or has a mad crush on another that is not reciprocated. Parental words are seldom comforting, and what's more sad than the story of an empty Valentine's mailbox?
The words, "Let the more loving one be me," take on the form of a prayer and have application beyond romantic love. Much of human interaction and relationships is out of our control except one, but "let the more loving one be me," is in our power and control.
I pray today Auden's plea: "Let the more loving one be me."
About the author