"The search for a scapegoat is the easiest of all hunting expeditions." — Dwight D. Eisenhower.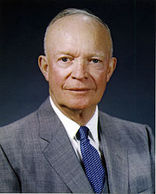 How early do we begin to place blame for our own failings on someone else. Pretty durn early and I wonder how very small children learn this? Is it from school, from their parents, or from their siblings? Even only children learn it very early.
Yet, who do we admire? I know for myself, it is the person who stands up and takes responsibility if he or she is sincere. I have learned after almost 50 years of marriage that some of the strongest glue in a marriage is when a spouse says, "I was wrong."
I don't know if anyone has ever thought that a terrific Lenten sacrifice would be to give up blaming others and using scapegoats to avoid responsibility. I'll have to remember that one next Ash Wednesday. I can however not wait on Lent to try to reverse our early lesson to blame and search for a scapegoat.
In fact one of the best thing we can ever do in life is to own our lives — the good and the bad. Imagine what our politics would be like if that were the case. But you see by that mere statement about politics I am doing a little scapegoating. For you see we not only need to own our lives, but we also need to take responsibility for other's lives too. What is wrong today is our responsibility and when enough people accept that responsibility positive change will occur.
About the author