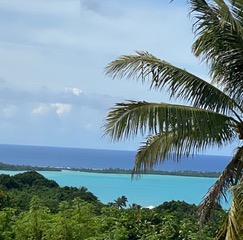 A wonderful friend sent me the above picture right before Easter. Y'all know of my love for beaches and oceans, and the above picture of a blue lagoon with the ocean in the background makes my mouth drool and mind wander. I want all my friends to have it as a reminder that there are parts of the world that remain unspoiled.
The season after Easter is a time of hope, a time for us all to dream of a bright future. I collect phrases that I find in good writing in every thing I read. I call them my parachutes of hope, and I want to share a few of them with you over the next few weeks. I also hope you will send me in the comments section to the Pew or by email your parachutes of hope. They are those moments or sayings that fill your soul with a warm feelings.
We just spent most of the Lenten season locked in our homes, but if you were like me I would see or hear every day something that made me hopeful, convinced that humanity gets it right despite all the forces that drive us to get it wrong. It is a season to focus on hope. Join me please!
About the author