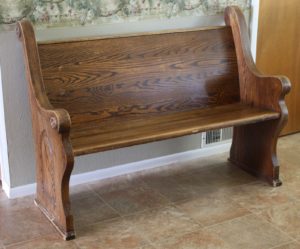 As The Hubbell Pew comes close to reaching over two thousand searchable meditations, I have a favor to ask. If you have a friend or relative you think would benefit from receiving a daily meditation either send me their email at [email protected] or go to TheHubbellPew.com and subscribe them yourself. I promise to never share their email with anyone. They also can quickly unsubscribe if they don't want to receive the daily meditations.
Thanks to the generosity of our subscribers we continue not to monetize the site or run advertisements. If you support that vision a one time contribution is also most welcome. For all contributions of over $50 you will receive an autograph copy of any of my Jack Patterson novels you wish. Simply go to the The HubbellPew.com and click on the button on the bottom of the page "Donate." You can also mail a check to The Hubbell Pew, 820 East Kingston Ave., Charlotte, NC 28203. I will be in immediate touch to find our which novel you want and to whom you want it sent. Think of it as an early Thanksgiving present for someone you care about.
I apologize for this post but my webmaster who manages the site makes me do this once or twice a year.
About the author