You then, my son, be strong in the grace that is in Christ Jesus. 2 And the things you have heard me say in the presence of many witnesses entrust to reliable people who will also be qualified to teach others. 3 Join with me in suffering, like a good soldier of Christ Jesus. 4 No one serving as a soldier gets entangled in civilian affairs, but rather tries to please his commanding officer. 5 Similarly, anyone who competes as an athlete does not receive the victor's crown except by competing according to the rules. 6 The hardworking farmer should be the first to receive a share of the crops. 7 Reflect on what I am saying, for the Lord will give you insight into all this. — 2 Timothy 2:1-7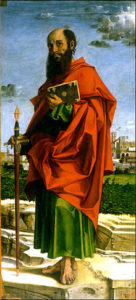 Nowadays St. Paul would be criticized for speaking about something he knew little about. History never records that he was ever a soldier, an athlete, or a farmer. But you know what? I don't think St. Paul after his conversion gave a hoot about critics. Never considering the fact that his letter would make its way into public domain or survive two thousand years, he writes a friend who is undergoing a crisis. He reminds Timothy that grace comes from God freely given, but it is up to us to exert effort to reach our goals. Then Paul evokes an image of three examples — a soldier working to please his commander, an athlete maintaining discipline to the rules of the game, and a farmer devoted to his crops by hard work.
The three examples have something in common, they each work toward a goal. The farmer to a harvest, the athlete to victory on the playing field, and the soldier to victory in battle. They also share another thing in common according to St. Paul they all, as do we. The source of our strength is God, and in times of crisis we like Timothy trust in him.
About the author