You can't help someone get up a hill without getting closer to the top yourself. — Norman Schwarzkopf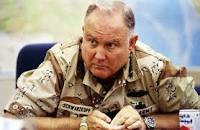 I can't think of a better visual to describe the Lenten Season than climbing a mountain, except for Schwarzkopf's visual of helping someone climb it with you.
Each step up the mountain gets you closer to the top, although on some mountains you occasionally go down and around but you get my point. If you follow through with your Lenten journey of sacrifice, prayer, meditation, and service it is extremely likely that you will carry at least one other along — your spouse, your children, a friend, or even a perfect stranger. I know my children learned the benefits of Lent from their mother, and it was a real joy to teach the concept of Lent to my two friends, Razor and Breeze, while I was on sabbatical.
Begin your discipline and journey up tot he mountaintop, you might be surprised who you help reach the pinnacle with you.
About the author