… to go to sea is the glimpse the face of God. At sea I am reminded of my insignificance — of all men's insignificance. It is a wonderful feeling to be so humbled." — Steve Callahan.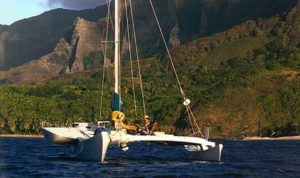 Steve Callahan, author of Adrift, once spent seventy-six days lost at sea on a raft. Followers of the Pew know that feel closest to God when I am at a beach and swimming in the ocean. When I read Callahan's words about insignificance and humility I had a better understanding of why I feel so happy at a beach.
It is healthy to "suffer a little humility" although I agree with Callahan that suffer is hardly the right feeling. There is a joy in humility like none other. If I could give one bit advice to our leaders and our future leaders it would be to learn a little humility and experience on a regular basis a sense of a world that is full of mystery and awe.
I believe we all are significant in God's plan for the world, but I understand Callahan's commentary. When I look out at an ocean or peruse the view from a mountaintop my heart pounds at the grandeur. We are not insignificant but only a small part of a magnificent world.
This summer take every opportunity you have to experience insignificance and humility. Each of us should take every chance we have to glimpse on the face of God.
About the author