…like a house of cards, losing the freshness and fragrance of the Gospel. — Pope Francis.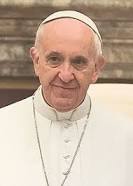 Pope Francis use these magnificent words  to predict that an obsession with narrow political issues risked the moral edifice of the church falling.
No I don't want to discuss the moral edifice of the church or which narrow political issues he is talking about. That could take up weeks or months. Instead let's focus on the magnificent description of the Gospel. He suggests the Gospel is continually fresh with a fragrance of none other, and with that I agree.
No matter how many times we read the Gospels we find something new-fresh, and something that challenges. I once read that the best way to pray was to simply open up the Gospel to any page and to begin to read. Do that and within a matter of minutes you will find yourself in a discussion with God that is sweeter than any fragrance on earth.
Suzy has a number of authors who she always goes back and reads when she's between books. Elizabeth Peters, Agatha Christie, and Louise Penney are mainstays, while Herman Wouk's Winds of War has had to be rebound she's read it so many times. The Gospel is much like an old friend who you haven't seen in a while, but when you do, neither of you misses a beat. You pick right back up as if it was a moment ago.
As the new year starts and while it is too cold to go outside a take in the sweet smells of the outdoors, consider picking up the Gospel and enjoying its "freshness and fragrance."
About the author