Is this not a holy trinity: the firmament, the earth, our bodies? And is it not an act of worship to hold a child, and till the soil, and lift a cup? And Communion, first seek that from your lover's soul before anything offered from a priest. — Meister Eckhart.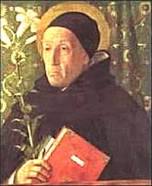 Hardly the teaching one would expect from a Dominican priest in the fourteenth century, but thought provoking. Words like this led to accusations of heresy late in Eckhart's life. But are they heretical?
Yesterday Suzy and I spent the day walking Quail Hollow golf course watching this week's PGA tournament. I say walked, but with a boot on my right leg and Suzy still recovering from knee replacement surgery we didn't go that far. But the sky was bright blue, the course was manicured green, and breathing in the fresh air reminded us why we love to go to this golf tournament each year. We were experiencing God's gifts first hand.
Sincere contemplation of the simple acts of nurturing a baby, puttering in a garden, or communion with one's partner bring about a better understanding of God than reading any textbook. Sublime experiences with nature or our fellow humans provide compassionate understanding of our life on earth.
We often meditate about the mystical, but don't forget to contemplate the daily miracles.
About the author