In Rick Bragg's latest book, The Best Cook In the World, he tells the story about his mother and biscuits. Like most young women who grew up in the rural south during the depression, Rick's mother, Margaret, had learned to cook just about everything by eighteen, except her mother wouldn't let her try her hand at biscuits. She said, "Momma would trust me to do most things by then, but she never turned a-lose of the biscuit pan. Biscuits was too important."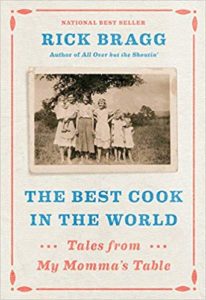 Rick goes on to tell a wonderful tale about his mother's first attempt at biscuits with trains, babies, and a staircase to nowhere thrown in. But as I read the tale it not only brought back memories of my grandmother, but also it was an important lesson in human nature. What do you still do and won't let go, or to put it bluntly what do you still hold on to for dear life, even though it's time to pass the mantle?
Making biscuits isn't my forte, but I have a difficult time keeping my mouth shut when I'm around my children and grandchildren. I kid myself and tell them it's only constructive advice or passing on wisdom, but its not. I haven't learned to let go of being a parent when that time has come and gone. I have lots of other "biscuit pans" I need to "turn a-loose." How about you?
Some mornings I wake up promising to let go of all my biscuit pans, but when it comes to reality it prove easier said than done. Is it possible as I see my children's talents bloom, like the grandmother I am a little jealous. If that's so, it's a "damn poor excuse for my conduct" as I used to hear quite often from Grandmother Erwin growing up.
One last bit of wisdom before I let it go. Biscuits in some way are like life. In the words of Rick Bragg: "Every biscuit does not have to be perfect or uniform on the outside. It was the chemistry not the aesthetics, that mattered. If you had good flour and fresh ingredients and took the biscuits from the oven at just the perfect time, well, 'it didn't make much difference if you had a ragged biscuit or two in the batch.'"
About the author