Non cooperation with evil is much a duty as cooperation with good. — Gandhi.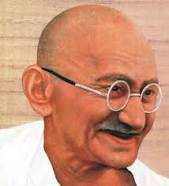 Gandhi's non-cooperation and civil disobedience won India its freedom from Great Britain, and his words and actions won him world wide acclamation. I have been a big fan for years and have and read several biographies. I am drawn to his humility and simplicity.
For him evil was black and white, or at least with hindsight it appears that way. For most, evil is not so clear most of the time. I don't think England or its leaders thought they were evil in their domination over the Indian people. I just watched the old musical 1776. Our founding fathers were divided as to whether slavery was evil or not, and ultimately dodged the issue in order to unite against what they considered to be a greater tyranny — the rule of the British King over the colonies.
Gandhi was imprisoned for his words and beliefs that war was a greater evil than Hitler. Most of us in the US and in Europe revere Winston Churchill, but the same can't be said of him in India and Pakistan. When we personify, evil becomes cloudy at times.
I am interested in your views on the subject, but I think, pray, and meditate on the issue. I am troubled by my sometimes off the top reactions to what I see and think is wrong.
What sets Gandhi in a different category is his reaction to evil. His non-cooperation included non-violence — no in your face shouting, no rock or bomb throwing, and inclusion rather than exclusion. He proved that strikes, fasting, and other forms of non-cooperation were more effective weapons against tyranny than arms.
Gandhi was not without faults, as are other great civil leaders who advocate non-violence such as Dr. King. We are all common in our lack of perfection, but I wonder if it isn't time for someone like Gandhi once again in our fractured world — a humble man or woman who can unite us all with words of love and commonality.
What do you think?
About the author