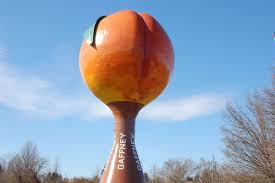 Yesterday Suzy took an hour's drive to Gaffney, SC — home of the Peach Water Tower. Then we went on to Chesnee, SC to purchase peaches and ice cream. Many people think of Georgia as the "Peach State," but we have fallen in love with South Carolina peaches. Proximity may have something to do with our preference.
It was beautiful day and Suzy loves back roads. After filling a waffle cone full of peach ice cream, we headed back to Charlotte with enough peaches to feed an army. We passed several cemeteries along side of the road, and every marker had a vase full of flowers. I commented, "Isn't that spectacular. That many people honoring their loved ones." Suzy said, "I hate to burst your bubble, but those aren't fresh flowers, they're artificial."  Well she had somewhat, but I got over it quickly.
The site of cemeteries by the side of the road got me thinking. How do I continue to honor my mother and father? How do I honor my heavenly father?
I may be wrong but the tradition of visiting one's loved ones by bringing flowers to the cemetery has lost it significance these days. I am more guilty of this drop in tradition than most. But before I get too lost in guilt I came across something I wrote in a journal while on sabbatical. It read: "Not to accept and love and do God's will is to refuse the fullness of existence."  I don't know whether that is something I came up with at the time or read it somewhere else. There are no source notes, but it got me out of a funk and thinking.
How do I honor my father, mother, and God's existence? A good beginning is to accept their love and live as full a life as I know how. Today is a good day to begin.
About the author