Almost fifty years ago, I was told my football career was over and I needed to return home and find something else to do with my life. My vision of myself as a professional football player was no longer a possibility. I had injured my knee the season before and had permanently ruined it playing on it for a full season. The man who told me this was none other than George "Papa Bear" Halas.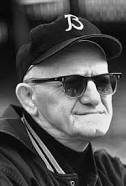 In the Chicago airport I picked up a book to read while I waited for my plane. It was an unlikely choice The Chosen by Chaim Potok but after reading it I had a new outlook on my future. I returned home. I told my parents I wanted to quit my day construction job and take a course at UALR so I could have enough hours to graduate after the fall semester. A little over a year later, I entered law school and my future was back on track. Of course the story is much longer about how a novel about two Jewish boys growing up in Brooklyn led me to the law, but I write not to tell you about my life, but to tell you that often youthful failure leads to fulfillment.
Parker Palmer calls these moments "creative failures." Instances where we have "fallen down, and gotten back up, leaned from our failures, lived to tell the tale, and gone on to get a few things right." And when I recall how devastated I felt in Coach Halas's office that day, I am reminded to tell my children, my grandchildren, and anyone who will listen the story of my creative failure. I know more than one teammates who are still playing football, never gotten over their "glory days." I could have been one of those guys, but I wasn't, because something drew me to purchase a book in the Chicago airport.
I wish I could say that my failure to become a NFL great was the only time I failed, the only time I didn't succeed at something that was important at the time, but it wasn't. I've failed like southern democrats vote — early and often. But each time I knew to make my failure a creative one, an opportunity not a dead end. I will fail again, and I will get up again. That is life.
What I hope is that I want fail to tell my story. People may choose not to listen or think failure won't happen, but it will. And maybe somewhere in the back of their mind they will remember this tale or perhaps a story you tell them about your failures and how what seemed to be the end of the world became the beginning of a whole new world. We owe it to them and ourselves.
About the author