Be anxious for nothing, but in every situation, by prayer and petition, with thanksgiving, present your requests to God. And the peace of God, which transcends all understanding, will guard your hearts and your minds in Christ Jesus. — Phillipians 4:6-8.
I have written before about Valorie Kondos Field's book, Life Is Short Don't Wait to Dance. In the book she describes the moment she learned that she had been diagnosed with cancer and hearing a voice telling her, Be anxious for nothing and grateful for all things.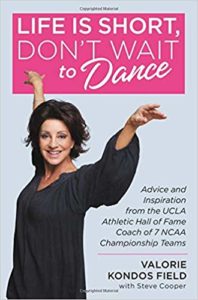 No matter who you are or what your circumstances at some point you will have a life-changing moment. If I'm grateful for all things I've had more than one, as I think most of us will. As Valorie says the key to not being anxious is to live a life of gratitude. In her case she didn't have to get chemo, she got to get chemo and it would save her life.
As I approach Thanksgiving Day, perhaps my favorite holiday, I remind myself to be grateful "for all things" and thankful for my many blessing. Valorie reminds me that my gratitude and thankfulness shouldn't be limited to a week or a day, but should be the way i lead my life. Thank you Valorie.
About the author