Solitude does not mean living apart from others; it means never living apart from one's self. It is not about the absence of other people–it is about being fully present to ourselves, whether or not we are with others. — Parker Palmer, A Hidden Wholeness.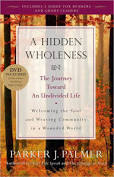 I slept in this morning and am already running behind, too much turkey and dressing, and definitely too much pecan pie. So please forgive me for the confusing quote. What exactly does he mean by being "fully present to ourselves?"
Perhaps what he is suggesting I engage in a two-fold exercise. Coming to an understanding as to who I am beneath all my trappings, and then embracing that person whoever I might be. I think if I look back on many of failures a lot of them occurred because I either lost sight of who I was, or tried to become someone I was not.
Solitude forces me to look at both sides of Palmer's coin, and I think he is correct that once I understand who I am, and embrace who that person is I will be comfortable whether I'm in a cell or in a room full of people.
What do you think?
About the author